About Sue Heldenbrand...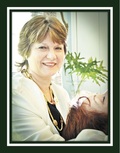 Certified Healing Touch Practitioner
Reiki Master Instructor
NES (nutri energetic system) Bio-Energetics Practitioner
Workshop Facilitator\LA State Approved for LA LMT
Bemer Practitioner/Distributor
**Young Living is the world leader in essential oils and known for using the most pure, 100% therapeutic grade essential oils known to man. Use topically, through diffusion, with dietary supplementation, bathing, massage and more!
Distributor # 352127Finding the BalanceThe Independent Media Magazine, Lafayette, La.
Synergistic Healing has been included in this article on holistic health.
View Finding the Balance Article NEW SERVICE-BEMER-a class 1 medical device that can help:
increase blood flow
enhance the body's nutrient and oxygen supply
remove toxic wastes
improve cardiac function
increase physical fitness, endurance, strength and energy(great for athletics)
improve concentration and mental acuity
reduce stress and improve relaxation
enhance sleep quality
CALL NOW for your complimentary 8-20 minute session. 337 232-4799
When added to an energy session, $10, or 10-20 minute sessions for $200.
A new model of health care is emergingNES Total WellNES System that is designed to read, communicate with, and stimulate a change in the energy of the body. After 30 years of scientific research, NES has developed a way to analyze and correct the body's bio-field and information.



Are you doing all the "right things" in terms of your health: eating healthy, exercising, taking supplements, being positive, but something is still missing? NES wellness helps optimizes what works and corrects information in the body field that is incorrect.

Disease and illness is scrambled information in your body field.



For those of you who do lots of traveling, this distorts every layer of your body field. NES is the key to unlock your body's own healing abilities. Revolutionary concept

that uses bio-energetics.


CALL TODAY and focus on wellness.

Click Here to learn more
---
HAPPY CLIENT
I've noticed a difference in myself since our appointment Thursday. Thanks again for your help.
-Brittney


I'll never forget how you " nurtured" me when I needed it so badly. Thank you from the bottom of my heart. I feel very relaxed.
Penny


---

I'd Like to Know More...


TESTIMONIAL from Gwen Molaison Mayeux

I love every work shop Miss Sue has given. I continue to learn new things everyday. I'm a changed person because of her. And me and my family are enjoying every minute of it. Thank you Miss Sue. I'm finally fibromyalgia free..!!! Because of you. God bless and we love you ..!!



Holistic Wellness


TESTIMONIAL: I have been the recipient of several energy sessions from Sue. It is really hard to explain specifically, but it is the most relaxing experience that one could have. It has been a tremendous help for me in my issues with pain, as well as fantastic in stress reduction. Having an energy session is a great way to have a mini vacation away from the stressors of life. I would recommend it to anyone.

Karen Dantin, MD

Baton Rouge, La.

Synergistic is defined as working together, combining efforts with others to enhance an effect

By working synergistically, we can all benefit.

---
Sue Heldenbrand has been a practitioner of
Energetic Healing since 1998
. As a facilitator in your self-healing process, Sue incorporates a variety of healing energy modalities into her practice. These techniques produce the relaxation response. Tension in the mind and heart creates tension in the organs, tissues and cells and inhibits lymphatic flow, adding to physical congestion. When your body is in a relaxed state, it is better able to heal. Sue uses a wide range of energy healing techniques and approaches that will help to empower and improve your life.
Sue is a
Healing Touch
(a bio-field thera
py) and
Integrated
Energy Therapy
(getting the issues out of the tissues) Practitioner. She is also a
Reiki
Master Instructor (an ancient healing practice that utilizes the universal life force energy.)
Reiki I and Reiki II classes available at your convenience.
For anyone with PTSD or chronic stress, there are techniques available that do not require verbal responses, using a light touch on specific parts of the body.
Energetic Trauma
Release
Techniques
help to deactivate the fear responses connected to those experiences.

Bio-Energetic NES Practitioner-Using a quick but very comprehensive scan of your body, Sue is able to identify priority energetic distortions in your body, as well as addressing the mind body association surrounding shock, trauma and stress.
BEMER Practitioner/Distributor
-Bio electro magnetic energy regulation
ABOUT SUE
Sue has written articles on complimentary approaches to healing as well as given
workshops
and seminars. She has been a presenter for state conferences in addition to participating in health fairs for hospitals, corporations, and schools.
Each session is individualized to meet the needs of every client. Sue uses a combination of energy-based modalities to enhance the healing experience. This is done in a safe and nurturing environment.
REMOTE SESSIONS: I
f you are unable to visit Sue in person for a session, she is available for remote sessions in which she can do the session long distance. A time will be arranged in which the client would be quiet for 45 minutes to an hour or asleep.
The results are the same if you are in the same room or in another country.
Wishing You Divine Blessings for Sharing This Site


Disclaimer: The entire contents of this website are based upon the opinions of Sue Heldenbrand, unless otherwise noted. The information on this website is not intended to replace a one-on-one relationship with a qualified health care professional and is not intended as medical advice. It is intended as a sharing of knowledge and educational information. We encourage you to make your own health care decisions based upon your research and in partnership with a qualified health care professional when using a product or practitioner's services. The services and products mentioned on this website are not intended to diagnose, treat, cure or prevent any disease.

---